Scheduled Shredding Services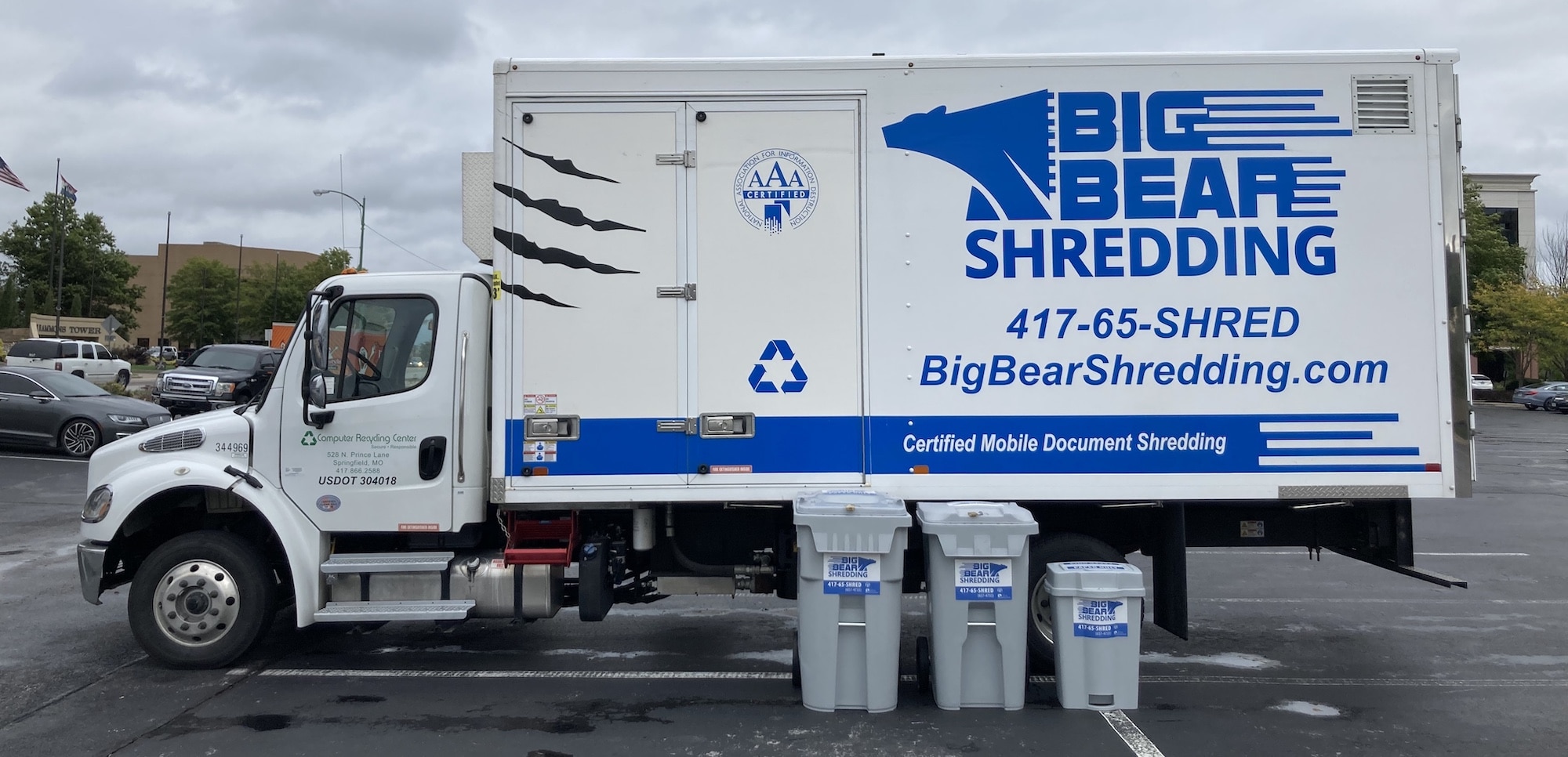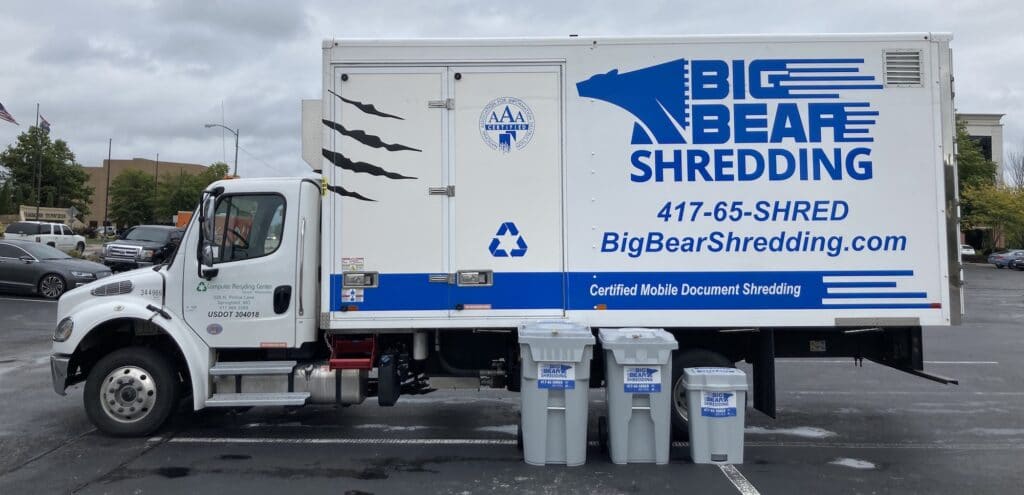 Regular Shredding Services Near You
Big Bear Shredding provides paper shredding services to residents and businesses throughout Southwest Missouri and Northwest Arkansas, including Springfield, Joplin, Ozark, Fayetteville, Rogers, Bentonville, and Springdale. We're the ONLY Shredding Service that is both NAID AAA Certified AND Indemnified by Downstream Data Coverage Insurance for your protection. This means that YOU, YOUR business, YOUR associates and YOUR customers are getting the highest protection in the world from a local service provider.
The accumulation of documents left unsecured can put your company and your clients at risk. In addition to the legal consequences associated with a breach of confidential information, your business may also be impacted by the effects of:
Regulatory non-compliance
Exorbitant breach notification costs
Loss of clients
Negative publicity
Organizations that regularly destroy sensitive records that are no longer needed have the upper hand when it comes to information security.
While your office might be equipped with a paper shredding machine, it may not be the most secure and convenient method for disposing of your confidential business records. In addition to being prone to breakdowns, paper shredders are often under-utilized. That's not surprising given the numerous steps one has to go through just to shred a few files:
Remove documents from binders
Remove staples, paperclips, and sticky notes
Shred only a handful of documents at a time
Clear frequent paper jams
Empty shredding receptacle on a regular basis
Regular oiling and upkeep to maintain shredding blades
As a result, in order to save time and potential headaches, sensitive files often end up in trash cans or recycling receptacles instead of being shredded, thus exposing your business to a potentially devastating data breach.
Scheduled Destruction of Your Sensitive Information
Big Bear Shredding provides our clients with a more sound and secure way to dispose of their confidential business records. Our scheduled shredding solution eliminates the need for paper shredding machines. We handle the collection, shredding, and recycling for you so you can continue growing your business!
Secure Shred Collection Containers
Big Bear's shred collection containers provide a secure, convenient, and time-saving method for the ongoing destruction of your business records. Our shred collection containers—which come in multiple sizes—are placed at strategic collection points throughout your office to facilitate easy disposal of confidential material. Fully-intact, whole files can simply be dropped into the locked container where they cannot be retrieved without a key. The whole process can be completed in half the time it normally takes to shred files in a typical paper shredding machine!
Once your shred collection containers are filled, one of our background-screened, professional team members will collect the contents and shred your documents on-site with our mobile shredding truck. After your documents have been destroyed, we provide you with a Certificate of Destruction.
More Thorough and Secure than Your Paper Shredding Machine
In addition to enabling you to be more productive, Big Bear's shred collection containers provide a more thorough and secure method for disposing of your business records. Our industrial-grade shredding equipment shreds your documents into tiny pieces that make it impossible to reconstruct any sensitive information. Once your records have been shredded, we bale and recycle all material. The strict chain of custody protocols we follow ensure complete destruction of your data.
Your frequency of service and number of containers is tailored to your specific business needs. As your shredding and destruction experts, we provide a cost-free consultation to help you choose a program that best enhances your document destruction program.
The secure shred collection containers we place within your office facilitate convenient and timely disposal of documents. Entire files can be placed within a container without removing staples, paperclips, rubber bands, etc. Once your containers are filled, one of our professional shredding technicians will arrive at your business, pick up the containers, and shred your records on-site at your facility. All shredded material is baled and recycled. Once the process has been completed, we issue you a Certificate of Destruction.
Your Southwest Missouri and Northwest Arkansas Shredding Company
Big Bear's scheduled shredding service can help your business eliminate the risk of a costly data breach. We'll expertly assess your document disposal needs and implement a scheduled weekly, bi-weekly, or monthly shredding solution that ensures secure and convenient destruction of your business records. As a result, you'll never again have to worry about:
Employee time spent on shredding
Sensitive documents lazily tossed in a waste bin
Shredded material not being recycled
Files not being shredded in a timely manner
Improper chain of custody
To learn more about our scheduled shredding services, please contact us by phone or complete the form on this page.